When:
May 27, 2014 @ 6:30 pm – 8:30 pm
2014-05-27T18:30:00-06:00
2014-05-27T20:30:00-06:00
Cost:
$20 pre-registration ($25 door price)
"Secrets of a Soulful Marriage"
     with Jim and Ruth Sharon
               Tuesday, May 27, 6:30 -8:30 pm, Brio in Cherry Creek,
               2500 East 1st Avenue, Denver, CO 80206, 303-329-0222
Enjoy a relaxing evening of fine dining and uplifting company as you learn secrets to enliven your relationship!
Join Jim and Ruth Sharon for an innovative relationship program for couples or singles who are
experienced enough to know that the romantic notion of blissful love is not sustainable, and who are awake enough to long for more.
This hope-filled evening for developing soulful, mature love is aimed at committed couples or singles who are looking to create, maintain and glorify the sacred in their relationship.
You will
understand the movement from physical "flight-fight-freeze" body-based survival

 to more heart-filled, communication-oriented love, to spiritual awakening and soul-purpose fulfillment.

be encouraged to develop liberating self-concepts and belief systems.

practice ways for communicating and problem solving more effectively,

open the way for more emotional intimacy, joy and sexual pleasure.
Cost: $20/person; $35/couple,  plus your meal and/or  beverages.
Dr. Jim and Ruth Sharon offer counseling, Soulful Couples coaching, retreats and presentations, as Energy for Life, in Centennial and nationally.Their book "Secrets of a Soulful Marriage" is available at the event and at 
SkyLight Paths Publishing.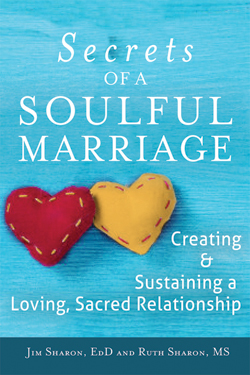 Ruth Sharon, M.S.
Licensed Professional Counselor
Soulful Couples Coach, Speaker, Retreat Leader
Registered Yoga Teacher